New Leaders Appointed to Chair the LRGS Medical Society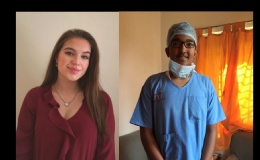 Annabel and Riddhiman have been chosen to lead the Medical Society from September for 2020-21.
After a rigorous application procedure, Annabel and Riddhiman were chosen by members of senior leadership staff and Sixth Form students including current Chair, Petko.
Current Chair of MedSoc, Petko said: "Over the past year, the Medical Society has transformed into a small republic within LRGS. I greatly enjoyed organising talks and collaborating with aspiring medics, sharing knowledge and experiences that ease the difficulty of the application process. Teamwork has always been integral to Medicine, and therefore, I strongly believe that MedSoc will continue to flourish with Riddhiman and Annabel as co-chairs. Their joint lead will symbolise the union between medics worldwide amid these challenging times."
On handing over to Annabel and Riddhiman, he added: "Your joint leadership will ensure the prosperity of the Medical Society. You'll make excellent role-models for the students of MedSoc and LRGS as a whole, inspiring more to become future medics and guiding them throughout the challenging process. You will echo the motto of LRGS: "Praesis ut Prosis"
Annabel said: "I'm looking forward to seeing the society grow larger and inspire more pupils with a passion to study Medicine."
Riddhiman said: "'I hope to ignite my passion for medicine in the next wave of aspiring medics and inquisitive minds.'