Students Research Lancaster's Past Involvement in the Slave Trade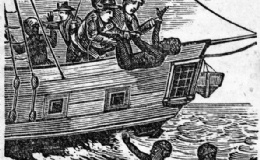 A group of Lower Sixth historians have been investigating Lancaster's hidden history and its role in the Trans-Atlantic slave trade in the 18th Century.
They have been investigating the naming of street names on St George's Quay and New Quay by the River Lune.
This project is a collaboration between LRGS and many other local organisations. They have found that Lancaster played a significant part in the slave trade, transporting approximately 30,000 slaves.
Stories relating to these street names and the slave trade can be found here.
LRGS Sixth Form students have presented their findings and have produced two videos which have been put forward to the Maritime Museum's exhibition of the Zong Massacre (1781) in hopes of providing more context to the slave trade outside of Liverpool, which is the 2nd largest slave trading port in the UK. Here is the link to the Maritime Museum's online exhibition.
The students also wanted to share some interesting facts they have learned about the Zong Massacre:
The Zong was an overloaded slave ship, as part of the Liverpool Slave Trade, which crossed the Atlantic in 1781. Due to a navigational error, the ship missed its destination in the Caribbean and had to spend an extra three weeks at sea. Drinking water was growing short and sickness had spread among the enslaved Africans and crew.
Approximately 131 enslaved people were thrown mercilessly overboard and drowned, so that the merchants could claim insurance money on the slaves as 'lost cargo'.
The crew were tried in 1783, although the case was heard as an insurance dispute rather than a murder trial. The case came to symbolise the horrors of the Middle Passage and strengthened the voice and force behind the campaign to abolish slavery.