Pupils and Staff Contribute Artwork to KS75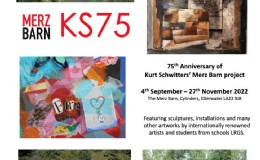 Artistic creations by staff and pupils are currently featuring in an event taking place in Elterwater, Cumbria, at the site of Kurt Schwitters' Merz Barn (1947).
KS75 is a wide-ranging event to commemorate the seventy-five years since the creation of one of the world's first and most important artistic installations. The exhibition includes a number of large outdoor sculptures around the site and a series of marquees with work by internationally renowned artists whose work has been influenced by Schwitters.
Schwitters was a German avant-garde artist who escaped Nazi persecution in the Second World War and spent the final years of his life from 1945-48 in Cumbria. There was a Kurt Schwitters retrospective at Tate Britain in 2013 and he features in many books on twentieth-century modernism.
The event also features a special 'couplet' of large-scale outdoor artworks running alongside KS75: 'Children of Mariupol' and 'Dark Bunker', expressing solidarity with the people of Ukraine. These exhibits are especially moving.
The event is taking place until the end of November, although arguably, it's probably best to see it before it get too cold, dark and wet. The ground at the site is occasionally rather uneven and outdoor shoes/boots are definitely advisable.
If you'd like to find out a little more about Kurt Schwitters, there is a thirty-minute BBC Radio 4 programme Merzman: The Art of Kurt Schwitters
View more photos on our Facebook photo album.