'It's Gonna Be Okay'​​​​​​​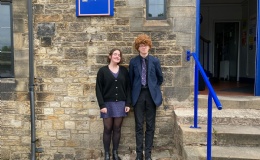 Lower Sixth Form students George and Hannah have recently produced and released the single 'It's Gonna Be Okay', the reaction to which has 'astonished' them both.
The single has just reached one-hundred listeners on Spotify. Speaking about the achievement, George said: "I am astonished and grateful. I was expecting, maybe, twenty-or-so people to listen to it but now it's at a hundred – I don't think I even know that many people, so I'm very pleased."
Hannah added: "It's hard to believe and it's hard to imagine a hundred different people listening to it!"
It's taken a lot of hard work and time to be able to release the music, let alone get it to a hundred listeners. George added: "six months ago, I had a musical idea for it. I only wrote the lyrics about three months after that. Producing it was difficult because it was the first time I'd ever produced a full song, a song in that style or ever written anything. It was the first time for a lot of things, and it took a lot of work. Thankfully, it's paid off."
The song contains a clear and strong message. When explaining the meaning behind the lyrics, Hannah said: "I think it's important because during the pandemic we were alone and trapped with ourselves, you've got to be able to see the light at the end of the tunnel." George added: "The title 'It's Gonna Be Okay' is something that I tell myself a lot especially during stressful times and something that I tell other people too."
Both have taken inspiration from other artists and genres to create 'It's Gonna Be Okay'. George said that the song "was very much lo-fi inspired". In terms of the lyrics, he says that he kept it pretty simple but they're "vaguely inspired by Mac DeMarco, who is an Indie songwriter who writes a lot of short and sweet songs that help you get up in the morning." Hannah said that she takes vocal inspiration from artists: "I listen to a lot of different types of music and as you listen to other people sing, you slowly change the way that you do it."
Future projects are already in motion for George, who is set to release his second single, 'Down Again' later this week. Another duet with Hannah is "definitely not off the table" but George is now focusing on solo music, with an album in the works, and he is hopeful it will be ready for release "maybe in a couple of months.". He promises an exciting blend of styles for his upcoming songs. "The next songs come with a more artistic exploration of what it was like to be in a pandemic. The next song is much more electronic, then I'm going to venture into metal-inspired, electronic songs and jazz-fusion songs."
You can listen to the brilliant 'It's Gonna Be Okay' on: YouTube, Spotify, iTunes
Report written by Ross Chapman