International Debate on the Legacy of Transatlantic Slave Trade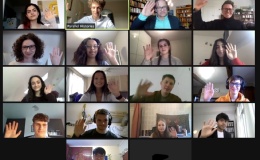 Lancaster Royal Grammar School and North Toronto Collegiate Institute tackled the question of statues, street names and how should we remember historical figures with links in the slave trade. Parallel Histories, an educational charity, organised this online debate that took place on Wednesday 28th April.
The students debated the question: did Henry Dundas help or hinder the abolition of the slave trade?
Henry Dundas was the most powerful politician in Scotland in the late 18th century. In March 2021, Edinburgh City Council approved plans to add a plague to a monument to Dundas, denouncing his role in deferring the abolition of the slave. Historians dispute this interpretation of Dundas' role in the abolition of the slave trade. To give students the opportunity to debate the evidence underpinning these competing interpretations and how we should remember figures like Dundas with ambiguous links to the slave trade, Parallel Histories set up a project with eight Scottish, English, and Canadian schools.
At Wednesday's debate, the Lancaster and Toronto students put forward their perspectives on this debate and received feedback to improve their speaking and evaluation of evidence skills. The debate is available to watch here. This debate is the first in a series of transatlantic debates about the legacy of the slave trade.

Hugh Castle, Head of History at Lancaster Royal Grammar School, said: "For obvious reasons, students are really switched on to this topic and the project has helped them investigate both the historical case on its merits and examine their own perspectives. The debates are a fun way of road testing their views and has complemented their work on the Lancastrian 'Slavery Family Trees' project. It's been a valuable experience for all concerned."