History Society Discussion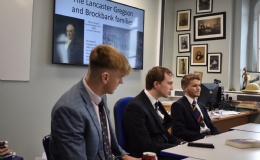 An excellent talk from members of the LRGS History Society this lunchtime. Sixth Form students talked about their findings from research they have undertaken as part of the Lancaster Black History Group.
The open discussion included whether it is ethical to name some of Lancaster's new streets after slave ships built or registered in Lancaster, as well as other colonial-era topics. Members of the History Society have also been investigating the role of the Gregson family in the slave trade, researching their family tree and their business links.
Well done to all students for an engaging and thoroughly well researched discussion, enjoyed by an audience of pupils from all year groups who asked lots of interesting questions and interacted by voting on ethical dilemmas.