Head of School 2020-21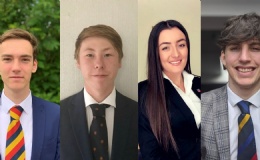 The top team have been selected to represent LRGS as Head of School for September 2020-21
Adam Parkinson has been chosen as Head of School supported by Deputies; Ben Schofield, Rebecca Denver and Miles Davis.
Adam Parkinson, new Head of School, said: "Since 1235, LRGS has provided an education to young people who have the desire and ambition to excel both within and outside the classroom. Now more than ever, during these challenging times, I have seen the potential, charisma and ability of every single member of our school tested to levels that six months ago, no one would be able to imagine. Therefore, I am honoured to have been selected as Head of School for the next academic year and look forward to beginning my role over the coming weeks as I take over from Ben Anderton - an invaluable friend, source of advice and an excellent opening partner in the 2nd XI cricket team.
I cannot wait to begin to work with our Senior Team on developing ideas that can be implemented both despite the recent circumstances but also through new ways that pupils themselves will be able to experience as school life returns to normality. There is no way of understanding the immense challenge that this will bring. However, with every challenge there opens a new opportunity - a philosophy that I hope we can help every member of the school community to embrace.
Over the coming weeks, we will begin to formulate our plan for the year, targeting areas of the school that we'd like to develop but also bringing forward new ideas and focuses about issues that are increasingly important in everyone's day to day lives. We hope that the benefits of these will not only be seen within the school but also in the wider reaching community that makes LRGS the incredible school that it is.
Therefore, whether you are a cricketer or a rugby player, in the music or role-playing societies, or an Old Lancastrian who bestows great pride upon the school, I can assure you that your Senior Prefect Team will be working as hard as they can to ensure that every pupil has a voice, the opportunity to excel and the confidence to be able to call Lancaster Royal Grammar School, their school, with pride and admiration and that they are part of the incredible legacy.
Ben Schofield, Deputy Head (Operations) said: "Throughout my six years here so far, LRGS has provided me with vast amounts of opportunities to develop and it is a school that is very special to me. I have been given many academic opportunities through the wide range of subjects to pick from. The relationships with teachers is second to none and this helps make a positive and thriving environment both inside and outside the classroom at all times thus making it an enjoyable place to learn every day. Students are offered lots of support to help them reach their full potential, both by the comforting nature of staff but also the great friendships that are made here.
The wide range of extracurricular activities offered at LRGS is something that is so special about the school. There truly is something for everyone, whether that be sports teams, politics, history, or music and many more. Everyone's interests are catered for and if by some chance there is not a club that appeals to someone yet, the school provides great opportunities to set one up. I have been heavily involved with cricket during my time at school. I have had the chance to tour Barbados and Dubai with cricket squads. As well as this, LRGS has provided me great opportunities to develop my leadership skills through captaining the cricket sides at various age groups and I've also been given lots of chances to work on my coaching skills with younger age groups which is an area I'm interested in for university. It's not only extra-curricular activities that offer the opportunity to go abroad because this year I will be going to Iceland on a geography trip and it will be a fantastic opportunity to see the glaciers we have been studying in the classroom. All of these trips and extra-curricular activities are what sets LRGS apart and through them I have been able to experience different cultures.
As Deputy Head of Operations, my role is to ensure that relationships between pupils and staff remain strong. Throughout the year, I will look to be a positive role model to the school and bring an efficient and structured approach to make sure the dining hall, grab and go, library and lost property are all run to the highest of standards. As well as this, I will also look to provide support to any members of the school community who feel they want my help with anything. I will be working very closely with Adam, Becky, and Miles this year to make sure the school sees plenty of positive changes to help all parts of the LRGS community. I most look forward to getting back out and representing LRGS because it is a school that is an amazing place and serving the school is both an honour and privilege.
Rebecca Denver, Deputy Head (Charities and Events) said: "I am proud to be Deputy Head of LRGS and the first female student in the Senior Leadership Team in the new coeducational Sixth Form. I am looking forward to bringing my energy and enthusiasm to the role. I hope to enhance my leadership skills whilst supporting the Headmaster, Head of School and the Prefect team. LRGS is a community in which I have thrived, and I would like to spread this positivity and help to maintain the supportive ethos of the school. I first visited LRGS as a pupil in the InspirUs programme when I was 8 years old, I now assist teachers at InspirUs as a Sixth Form ambassador. Currently, I study Geography, Biology and Business and Management, I am thinking of studying law and hope to train as a barrister in the future.
LRGS has given me many opportunities to broaden my interests and hobbies. This year we started a girls' rugby team which I am part of. I also enjoy debating at the Whewell society, the oldest club at LRGS. In the coming year I hope to encourage more pupils to participate in the multitude of clubs and societies on offer at school.
As Head of Charities and Events my role involves planning important events in the school calendar and to make these enjoyable for pupils, teachers, and visitors. Charity events are significant at LRGS, in the coming year I aim to get more students involved in raising money for charity and planning entertaining, innovative ways to raise money. It will be a privilege to represent LRGS at events and to raise money for charities. I regularly help at school rugby matches, baking and selling cakes in the Memo Café to raise money for the LRGS Sport Department, which I thoroughly enjoy. Part of my role will be welcoming visitors to LRGS, something I already do in my job as a lifeguard at Lancaster University. I look forward to meeting people and welcoming new students next year, as well as working in the Senior Leadership Team.
Miles Davis, Deputy Head (Welfare) said: "Throughout the six years I've had at LRGS, the school has given me a variety of opportunities inside and outside the classroom that I wouldn't have had somewhere else. I've been fortunate enough to be involved with the rugby, cricket, football and handball teams at different points, the Whewell Society, Inspirus and different political societies. This has allowed me to experience the thing that is most special to me about LRGS which is the variety of different personalities and interests we have in an environment that celebrates these differences.
The events of the last few months have meant the school has had no choice but to adapt but as a community we have overcome all the obstacles placed in our path and I'm proud to see everyone coming together to make it work. LRGS has always felt like a close-knit group but this sentiment has been strengthened that we need to ensure we keep going when we are able to return to a more traditional school setting. We need to work together to create the change we want to see within school, in terms of making the school more environmentally friendly, in terms of making sure we support our peers who need it and in terms of making sure we continue to celebrate the achievements of our students.
As for my specific role as Deputy Head of School – Pupil Welfare, I am excited to begin working with the rest of the Prefect team to get started on creating some ideas and plans and putting them into action as quickly as possible to ensure that I don't waste any time in terms of doing my bit to improve life for pupils at LRGS and I hope that my peers will do the same. I want to further the great work of teachers and students to make LRGS the happiest, safest place it can be, both educationally and pastorally. I look forward to working closely with the rest of the Leadership and Prefects' teams to help make LRGS even better.