Head of School 2022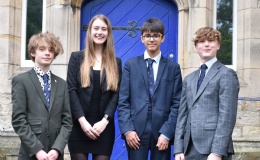 The top team have been selected to represent LRGS as Head of School for 2022-23. Oliver Biswas has been chosen as Head of School supported by Deputies; Toby Rose, Victoria Manifold and Ben Parkinson.
Oliver Biswas, new Head of School, said: "Firstly, I would like to thank the previous Head of School, Tom, and his team for taking such a wonderful and imaginative approach to their roles. The year 2021/22 will be remembered for the highest-ever amount of money raised during the Lent term, as well as the hugely successful Anti-Discrimination Conference, in partnership with the University of Cumbria. These monumental achievements represent the very best of LRGS students, and I would like to continue to help provide a stimulating and empowering atmosphere for all pupils. I value every member of the school, and I want to help give you the tools to excel, both inside and outside the classroom, and make LRGS a place which you are comfortable, content and proud to call your own."
"As the country continues to recover from the COVID-19 pandemic, I hope that many students will look forward to attending in-person assemblies, talks, events and trips once again, marking a return to the bustling and exciting life that we are fortunate to enjoy every single day at LRGS. As part of my prefecture, I want to ensure that every pupil's voice is heard, and every pupil has an opportunity to contribute to our brilliant community, whether that be through fundraising or organising clubs and societies, or even just looking out for friends and peers."
"I vow to be a 'green' Head of School, and I want to use my platform to promote environmental awareness and introduce a student-led climate action plan to aid our school's transition to net-zero. As the climate emergency threatens every aspect of our life, from floods and droughts to civil unrest and conflict, it is imperative that young people, like ourselves, lead the way in creating a more inclusive and healthier planet. For every challenge, there is always a greater opportunity – a philosophy that I believe every member of the school community can embrace. I will also strive to inspire students from all year groups to pursue and investigate their own interests and other important social issues, like celebrating diversity or combating discrimination, because our experiences at LRGS are much more than our academic studies."
"It is an enormous privilege to serve as Head of School alongside Toby, Ben and Victoria and I look forward to working with each and every one of you over the next year!"
Victoria Manifold, Deputy Head of Events said: "Upon accepting this role, I felt a huge sense of excitement towards it as I can't wait for the coming year and how my role can greatly affect the future of both the school and those surrounding and linked to it. After a worldwide challenge that has affected many in different and complex ways, I feel that my role can truly begin to aid and tackle those issues and work towards a more harmonious and happy collective."
"The wide range of opportunities made available to me at LRGS is one of the many things that has made my time here so far, so special and unique. Regardless of ability or previous experience, LRGS has been so welcoming and encouraging in allowing me to pursue my interests and become a well-rounded, valuable member of society. From debating and Medical Society to rowing, rugby, and hockey there is something for everyone to try and get involved in. I can honestly say that these pursuits have truly inspired an interest within me that will last through university and beyond."
"As Deputy Head, I acknowledge that my role has a huge impact on the school community and through the events element of my role I aspire to create lasting and meaningful memories that students and friends of the school can cherish in years to come. School has such a lasting and powerful effect on the way we grow and mature and I feel my role lends itself greatly to the nurturing of others. I hope to ensure the continuation of the greatly enjoyed sixth form quiz night to bring about the sense camaraderie that all of us felt in that room as competitive spirit and humour combined in a perfect demonstration of the LRGS family."
"As a student who was new to LRGS I can still remember the nerves I felt moving from a familiar comforting environment to somewhere new and different. LRGS was so welcoming and allowed me to meet like-minded people and create friendships that I know will stand the test of time. I hope to replicate the warm, welcoming sense of community that I felt as I entered LRGS in the first few weeks and months until it truly felt like home. Furthermore, within my role I would also like to make known my 'open door' policy as I ensure both visibility in and around school as well as also just being on the end of an email to anyone; all voices should be heard, and I look forward to hearing and implementing the great ideas I know so many will have."
"In the coming weeks and months as I step into the role of Deputy Head with responsibility for Events and Charities I look towards my great predecessor, Clement, who succeeded in accomplishing many great things within the school community and raising huge amounts for Lenten charities. I hope that in the coming year we can see some of the same level of commitment and dedication to local and global causes as we embrace generosity, public-service, and compassion. I can't wait to work alongside the other members of the senior leadership team: Oliver, Ben, and Toby as we hope to embody the school motto, 'Praesis ut Prosis' and truly make a difference."
Ben Parkinson, Deputy Head of Operations said: "For the past six years LRGS has provided me with a multitude of opportunities and experiences and has been at the heart of my life. LRGS is an inclusive and diverse community, in which all students are supported and nurtured. The excellent team of staff are always very helpful and create a friendly and warm environment allowing all students to reach their fullest potential."
"There is a huge array of extracurricular activities on offer, there really is something for everyone; from sports teams to debating societies, music and everything in between. During my time at LRGS I have been involved in rugby matches, swimming galas, medical and history societies, the Green Team, as well as the InspirUS programme, which encourages young children in our local area to develop academic curiosity and skills. As a member of the senior leadership team, I look forward to working together to develop the school's green initiative and inspire all students to take environmental action."
"As Deputy Head of Operations, my role is to provide an interface between pupils and staff. Throughout the year, I will try to be a positive, approachable and empathetic role model, and ensure an efficient and structured approach is in place to allow the dining hall, 'grab and go', library and lost property to all run to a high standard. It is a huge privilege to be working with Oliver, Victoria and Toby and to have this opportunity to give back to the school."
Toby Rose, Deputy Head of Welfare, said: "LRGS is an outstanding school concerning the wellbeing and happiness of its pupils, and this is a theme that I aim to both maintain at this exceptional standard, and take further, making the environment as welcoming as possible for all students. The recent push for diversity and against discrimination by the previous Senior Prefect Team is both a daunting and extremely exciting legacy to step into as I continue the work of Travis, the last Head of Welfare, whose central role in producing the recent anti-discrimination conference paves the way for new and even more ambitious initiatives aimed at making sure that the school, both as a collective and as individuals, is thriving."
"The emotional wellbeing of students is the first step to productive learning, and difficulties experienced in school can extend home and into a pupil's social life too. This is why ensuring that LRGS is doing everything we can to support students is absolutely vital for producing a well-rounded experience. I hope to be a figure of support for everyone in the student community, and by working with the Senior Prefect Team and wider Prefect network, creating a system of support so that every student knows where to go if they're experiencing any kind of difficulties that they feel unable to talk about. Giving these pupils a voice, and pushing for their wellbeing even further than before, is my goal."