Giving Day 2023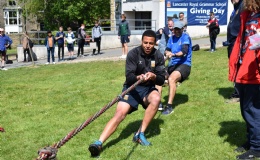 Wednesday 24th May 2023 was the inaugural LRGS Giving Day where we managed to raise £70,729 for the refurbishment and transformation of the Upper Courts.
The total amount raised has come from donations from across the school community, as well as pledges from the Friends of LRGS, the Old Lancastrian Club and the Douglas Cameron Memorial Fund.
Headmaster Dr Pyle said: "Thank you so much to everyone for getting involved and supporting this project with so much enthusiasm and generosity. It has been brilliant to see such an impressive response to Giving Day from all of the school's friends and supporters. The spirit of contribution has been evident, from the staff v. students Tug of War to the Friends Supper and Fun Run. We now look forward with confidence to delivering a fantastic Upper Courts facility for our pupils in September."
Highlights from LRGS Giving Day can be found on social media: Instagram Facebook Twitter #LRGSGivingDay
To see how our Giving Day campaign forms part of our wider fundraising and Development plans at LRGS, please click here.