CCF Oglesby-Wellings Parade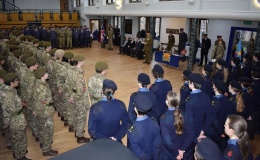 The Oglesby-Wellings prize giving parade took place this week.
Service and contingent prizes were awarded to students from LRGS and LGGS presented by special guests, Professor Oglesby and Mr Wellings as well as the Headteacher of LGGS Mrs Cahalin, Dr Pyle, Lt Col Rowe, Lieutenant Hamilton, Captain Atkinson and Flight Lieutenant Williams.
The prize winners are:
Advanced Infantry: CSM Hyde
APC Advanced U6: RSM Wood, CSM Hyde, Sgt Adam, Sgt Golhar, Sgt Tseplin.
APC Advanced L6: Sgt Rowe, Cpl Chillman, Cpl Fox, Cpl Hall, Cpl Waller Sergeant.
Promotion to CSgt: Adam, Golhar.
Promotions to RQMS: CSgt Chatterjee.
RN Junior: 1* Thomas Otley.
RN Senior: CPO T Anderton.
Army Junior: CAdet G Blakeney-Edwards
Army Senior: RQMS S Chatterjee
RAF Junior: L/Cpl T Prince
RAF Senior: Sgt A Roch
Halliwell Shield: CSM J Hyde.
Oglesby-Wellings Sword: Fl Sgt T Starr.
The event culminated in the presentation of the Oglesby-Wellings sword, awarded in memory of Giles Oglesby-Wellings who many years ago was a cadet at LRGS.
Congratulations to you all.