Wish you were here!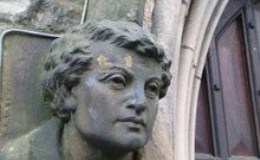 There have been many encouragements amongst the upheaval and emotions of recent weeks. Feedback on our first weeks of remote online teaching has been extremely positive, as we try to weave straw into gold.
We are learning again what a precious and remarkable community we share.
And we have weathered worse storms. Lancaster Royal Grammar School traces its roots back to the 13th century. We survived the Black Death. We came through the Civil War. Another school was evacuated to share our site in the Second World War.
Our classrooms are empty for now, but of course the school isn't really made of buildings.
It is made of people, and our professional and personal relationships, and our rules, and the stories we tell each other, and the way we do things round here. That's where the magic happens.
I often tell the school that high trust and high challenge define us, and that is never more true than now. And we sometimes remind one another that Who cares wins! Trust, challenge and care – we'll cling to them.
Our school is an anvil that has worn out many hammers. Our culture and values matter more than ever now.
We are here for all our pupils while we are closed, and we'll be here for them when we re-open. Praesis ut Prosis!