Biology is Buzzing… such a Hive of Activity!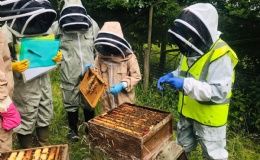 Did you know that there are LIVE BEES in the LRGS Apiary?
This year the Biology Department has expanded to welcome their very own bee colony.
The project has been supported by funds from the Friends of LRGS to purchase hives and equipment, along with a very kind donation of the bees themselves from Gresgarth Hall Apiary.
We have also received herb/plant donations from Year 7 parents and held cake sales to raise more money to invest in our bees.
Staff have undertaken training over the last year including; face-to-face theory, looking at bee equipment, training via Zoom to learn more about bees and practical training in the Apiary with Lancaster Beekeepers Association.
Thank you to everyone who has provided support in establishing the LRGS Apiary, especially to Calvin Routledge who continues to tend to gardens around school and helps provide flowering plants for our bees.
The project continues to grow and as Mrs Hargreaves and Mr Millatt become more experienced, they intend to involve more pupils in Bee Club.
Biology has embedded some lessons about bees into the KS3 curriculum and have run a World Bee Day with external expert visitors and honey tasting. Other activities include bee treasure hunts around school, cake sales and much more!
We have not completed a whole year of beekeeping yet, and we still have things to put into practice, especially looking after the colony over winter. All being well our single hive will need splitting next spring, and we will grow to two hives.
We hope LRGS can continue to bee happy for a long time to come.