Apply Now for Entry in Year 7 in 2021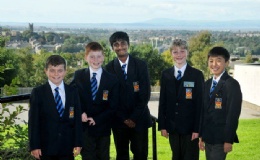 Lancaster Royal Grammar School has opened the application process for parents of boys currently in Year 5 at primary school who are interested in joining the school in 2021.
LRGS is one of the North West's top grammar schools for boys with a coeducational Sixth Form. As a state school, education is free for all pupils. We are a successful state boarding school, rated as 'outstanding' across all categories by Ofsted in October 2019.
More information about the application procedure can be found on the Admissions page including key dates including; the deadline for entry and the 11+ assessment test date.
IMPORTANT INFORMATION
All four grammar schools in our consortium for the entrance exam for September 2021 entry have taken the decision to delay the entrance exam to Saturday 17th October 2020, This is to allow Year 6 pupils a little more time to readjust following disruption caused by Covid-19.
We will still be able to provide parents with test results before the deadline for the local authority's Common Application Form.
We apologise for this change to our published calendar but believe it is in the best interests of the pupils.
Please read all of the information on the Admissions page and in the Admissions Booklet 2021 available to download below before completing the online application form.